Indigenous Look-Up Tables
Up until now, the MAF indigenous regeneration look-up tables have been set at a flat rate of 3 tonnes of carbon dioxide (NZU's) per hectare per year. This was calculated assuming indigenous forests will reach 600 NZU's in a straight line after 200 years.
These new rates make indigenous reversion a more attractive land use option in most areas, compared to the old tables. We will update our online calculator with these new changes once they are passed into regulation, so you can gain an understanding of the impacts of the new tables using your own forest area data.
The new look-up tables for indigenous reversion are due to be incorporated into regulations in October 2010. The look-up tables have been reviewed by MAF "because data becoming available from emerging research indicated larger values were appropriate for younger indigenous forest – particularly for forest regenerating on more fertile ex-pasture land. The long-term fixed-rate figure was therefore believed to be too conservative, and thought likely to discourage the establishment of indigenous forest."
The table below compares the old and new look-up tables.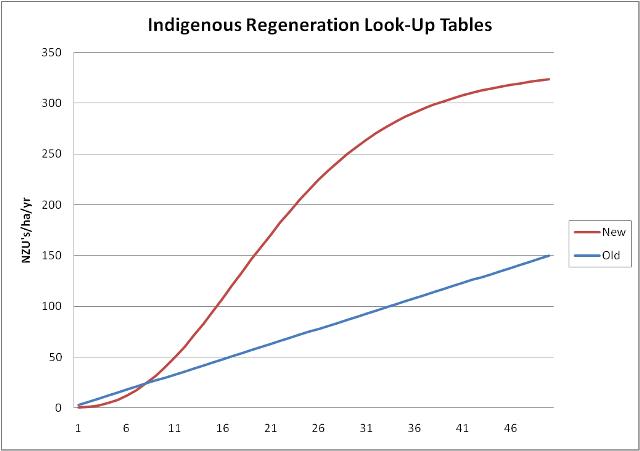 The sequestration rate of the new tables start slower but the total sequestered carbon has caught up with the old tables by age 8. After this the rates continue to improve until around age 39 when it drops below 3 NZU's per hectare per annum. The maximum sequestration rate for these new tables is at age 18, at a rate of 12.8 NZU's per hectare per annum.
If you would like more detailed information on the financial impacts of these new tables we suggest that you contact a registered forestry consultant. Click here for a list of registered forestry consultants.
Ministry of Agriculture and Forestry, February 2010 - The Indigenous sequestration rate and enhancing Calculation of Emissions and Removals: A consultation document on amending the Climate Change (Forestry Sector) Regulations 2008.
Little Uptake of Nitrification Inhibitors
Nitrification inhibitors have been promoted as an option to reduce on-farm green house gas emissions. Scientific publications suggest that applying nitrification inhibitors can reduce N2O on-farm emissions by up to 75%. However, the 2010 New Zealand Greenhouse Gas Inventory noted that in 2008 (time delay in reporting), only a 0.1% decrease in total agricultural N2O emissions, resulting from applied inhibitors.
The Carbon Farming Group asked a fertiliser representative why they thought this was the case. Here is their response:
"(N inhibitor) use is increasing, but as with any new category it does take time for people (dairy farmers) to get familiar with what the product does and how it works and how to maximise the effectiveness of it for their own farming operation. Within the dairy farming sector there is a wide range of beliefs, understanding of and perceptions to new technology – some won't use anything new until their neighbour has used it for 5 years etc. In addition, the only current financial incentive for the dairy farmer to use (N inhibitors) is the extra dry matter production, and for the extra grass to add profit to the bottom line they must have a dairy pasture management system that can effectively utilise the grass (turn the grass into milk). There are currently no financial incentives for a dairy farmer to reduce nitrate leaching or nitrous oxide emissions."
It seems that although nitrification inhibitors can reduce nitrous oxide emissions, there is still some uncertainty how well they will work on each farm, and as there is no direct financial incentive to use them uptake to date, is low.
Carbon Calculator Update
The online calculator has been upgraded to incorporate the impacts of the ETS legislation on the agriculture sector. To show the reduction of the emissions subsidy, a yearly calculation is assessed in five year intervals. i.e. what the legislation will look like on your farm in 2015, 2020, 2025 and 2030.
Using the inputs from info sheet 8, i.e. a 600 effective hill country farm with 2862 sheep and 469 cattle, and 15 hectares of 5 year old radiata pine, the new results are shown in the screen capture below. We have set the price of carbon to $20 per NZU.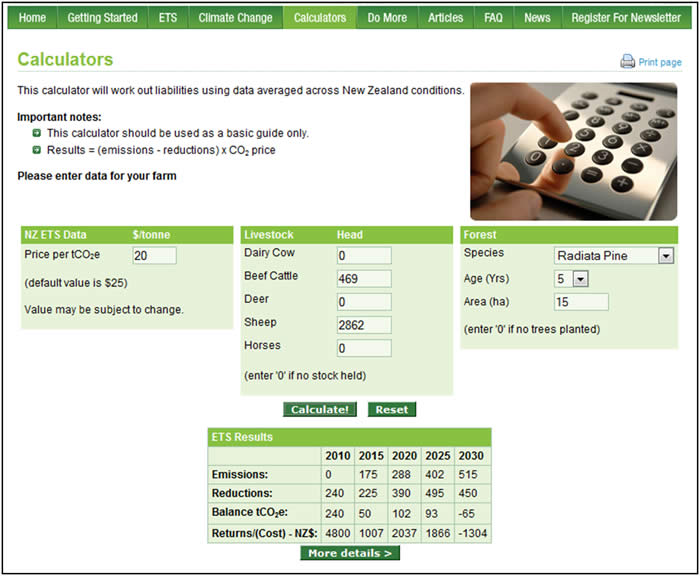 These yearly results show that emissions are low in 2015 at 175 NZU's and ramp up to 515 by 2030, on the flip side the reductions also increase from 240 NZU's at 2010 to 450 by 2030.
New Info Sheets
There are two new info sheets on the website. The first, info sheet 13 discusses carbon forest insurance and risk management. Info sheet 15 takes a detailed look at a sheep and beef farm comparing amongst other things, gross margin per hectare for a farm with carbon forestry and one without. Click here to view the new info sheets.
ETS Fully Regulated – Agriculture Now In
New regulations which take effect from 1 October, have been added to ETS legislation to bring all the outstanding sectors, including agriculture into the scheme. The Carbon Farming Group received notice of this from Buddle Findlay, and they provided a link to the new Climate Change (Agriculture Sector) Regulations 2010. These new regulations "come into force on 1 January 2011 and prescribe the methodologies that participants in the agriculture, waste, and synthetic gases sectors must use to monitor and report their greenhouse gas emissions. These sectors have not yet entered the scheme, but from 1 January 2011 participants in these sectors may voluntarily report their greenhouse gas emissions if they wish to do so. These regulations allow this to occur."1 To view the agriculture regulations on our website click here. The new regulations include some revised emission factors, where appropriate we will update the online claculator to reflect these revisions.
1. Legal Update, Buddle Findlay, 29 September 2010. (link)
MAF Fee Increase
Due to the GST increase from 1 October, MAF ETS fees will increase accordingly. The increases were detailed in the MAF Sustainable Forestry Bulletin, Issue 19 and are listed below:
post-1989 registrations (from $550 to $562.22);

emissions return filing fee (from $100 to $102.22);

PFSI application filing (from $562.50 to $575);

hourly rates which will increase proportionately.
If you have any questions about climate change and the rural sector, or have ideas/suggestions that you'd like to share please contact us on 0800 123 733 or info@carbonfarming.org.nz
Best Regards,
Clayton Wallwork
Trustee
Carbon Farming Group