Carbon Farming Newsletter

Issue 8, February 2011
Hello,
Welcome to the Carbon Farming Group newsletter. In this edition we'll take a look at the details of the ETS review; explain how to access a climate change glossary of terms; and update you on the upgrade of our online calculator.
ETS Review
Climate Change Minister Nick Smith, recently announced the terms of reference of a scheduled review of the ETS. The terms of reference can be viewed here . This review is not to debate the existence of the ETS but rather to assess if the current format is appropriate to meet New Zealand's Kyoto obligations at the least cost. The members of the review panel are:
David Caygill (chair)

Tom Lambie

Geoff Thompson

Julia Hoare

Chris Insley

David Russell
The review panel are expected to report to the government by 30 June 2011. See the press release about the review here.
Climate Change Glossary of Terms
We've had several requests for an easy-to-understand glossary of carbon farming terms. After a bit of research we've found a very good one on the Ministry for the Environment's website. Click here to see their Climate Change Glossary of Terms.
Carbon Calculator Update
Our carbon calculator has been significantly upgraded to incorporate the passing of the Climate Change (Agriculture Sector) Regulations 2010. You can now estimate the emissions and resulting cost to your farm by inputting either, kgMS, or animal numbers and average kg of animal type sent to slaughter. To try out our new calculator click here.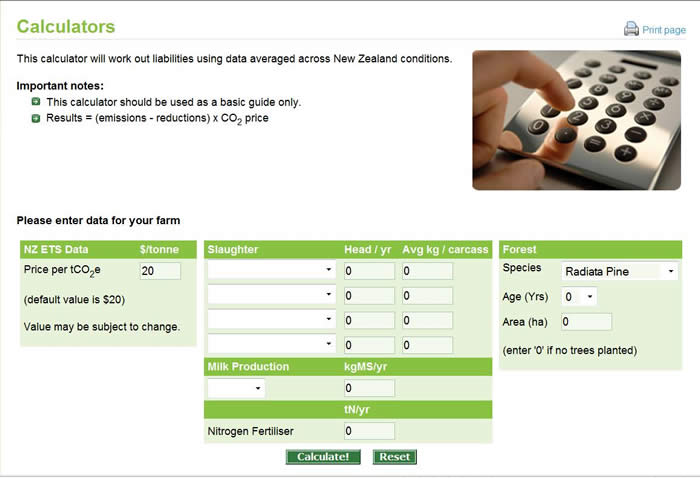 CFG Web Stats
The Carbon Farming Group website continues to receive more and more web traffic with January 2011 being the biggest yet. The following are some of January's stats:
4800 sessions (unique visitors) on the site, average of 155 per day

The average session length was 4minutes and 6 seconds, therefore

Total visitor time on the website totaled 328 hours

Visitors downloaded over 1000 documents from the website.
If you have any questions about climate change and the rural sector, or have ideas/suggestions that you'd like to share please contact us on 0800 123 733 or info@carbonfarming.org.nz
Best Regards,
Clayton Wallwork
Trustee
Carbon Farming Group