Carbon Trading
Carbon Trading
This section will provide you with information on the carbon trading process, it is not intended to provide a carbon trading platform or to put buyers and sellers in contact with each other.
ETS Mechanism
The NZETS began trading 1 st April 2009. Agriculture is currently scheduled to be phased in from January 2015. Depending on the point of obligation, landowners or industry bodies will have to submit regular ETS returns to MAF, accounting for greenhouse gas emissions or reductions. Returns will be required either annually or at least once every 5 years. The format of a carbon return is likely to be similar to that of a GST return. Carbon returns will be checked by MAF.
Once the return is verified, the landowner or industry body will have a balance of credits (NZUs) that will be available for sale or banking (if positive), or that the landowner will have to purchase (if negative). Sales and purchases will be administered through the NZ Emissions Unit Register (NZEUR). Each landowner or industry body will have an account with the NZEUR which will operate much the same as internet banking. If you need to buy NZUs you will be able to purchase these off other individuals who have surplus credits.
The diagram below shows the flow of NZUs and money in the trade under the Emissions Trading Scheme.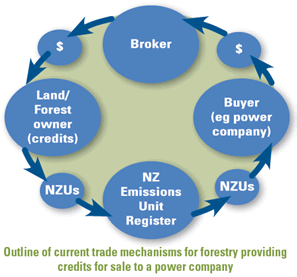 For more information on carbon price and the voluntary carbon market please see the carbon trading info sheet here.
Insurance and Risk Management
With the allocation of credits and subsequent sale, the forest owner is potentially liable for any losses in carbon as a result of natural or intended timber removal through harvesting.  Options for insurance are covered in our information sheet which can be seen here.